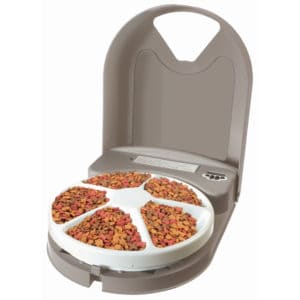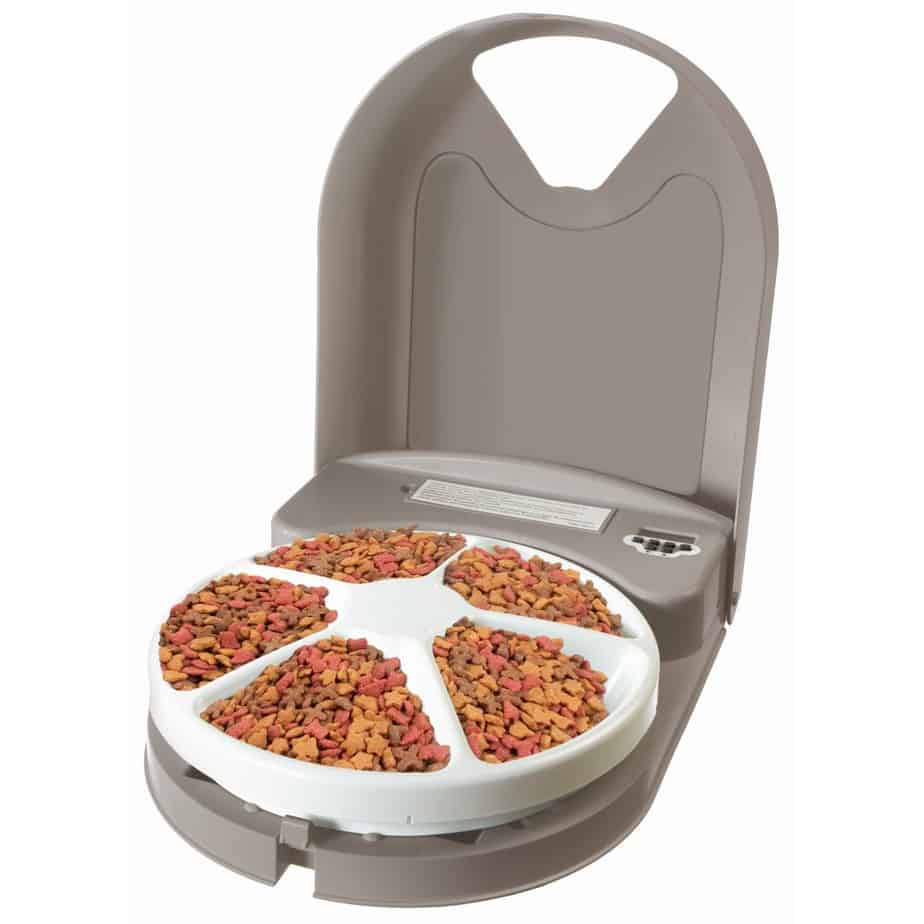 All right. We're good to go. You need an automatic cat food dispenser and I've got you covered.
Up for discussion today is the PetSafe 5-Meal Automatic Pet Feeder. Long and short: It's great. I mean really good. OK, I guess that's it . . . Umm. No. Let's keep going.
If you're on the search for a perfect automatic cat feeder then read this review to find out whether this is the right one for you.
The PetSafe 5-Meal Automatic Pet Feeder gives you a ton of flexibility in terms of scheduling meals while keeping things simple on the techie stuff and, all the while, being tough and sturdy. It really suited for someone looking for a workhorse with a ton of capacity but doesn't overdo it with the gadgets and features.
If that's you, this bad boy may be the right choice. (The PetSafe  5-Meal Pet Feeder is good choice for a medium-capacity dispenser. If you're looking for a larger capacity and all-around great (and I mean my top choice) automatic cat feeder, check out my review of the PetSafe Healthy Pet Simply Feed Automatic Feeder.)
As you guys know, I'l walk you through the features that you get with the PetSafe 5-Meal Automatic Pet Feeder, and then I'll also give you sense of what people who have purchased the  dispenser via Amazon are saying are the pros. Finally, all wrap things up with cute little bow by giving you some recommendations on other choices.
I try to be as comprehensive as I can when reviewing a product. If you're in a hurry and you just want to order the Petsafe 5 Meal Pet Feeder, I get it. Go ahead and click here and go straight through to Amazon and check out the full product listing, the customer reviews and see any deals that are available.
Click here to check out the PetSafe 5-Meal Pet Feeder at Amazon
PetSafe 5 Meal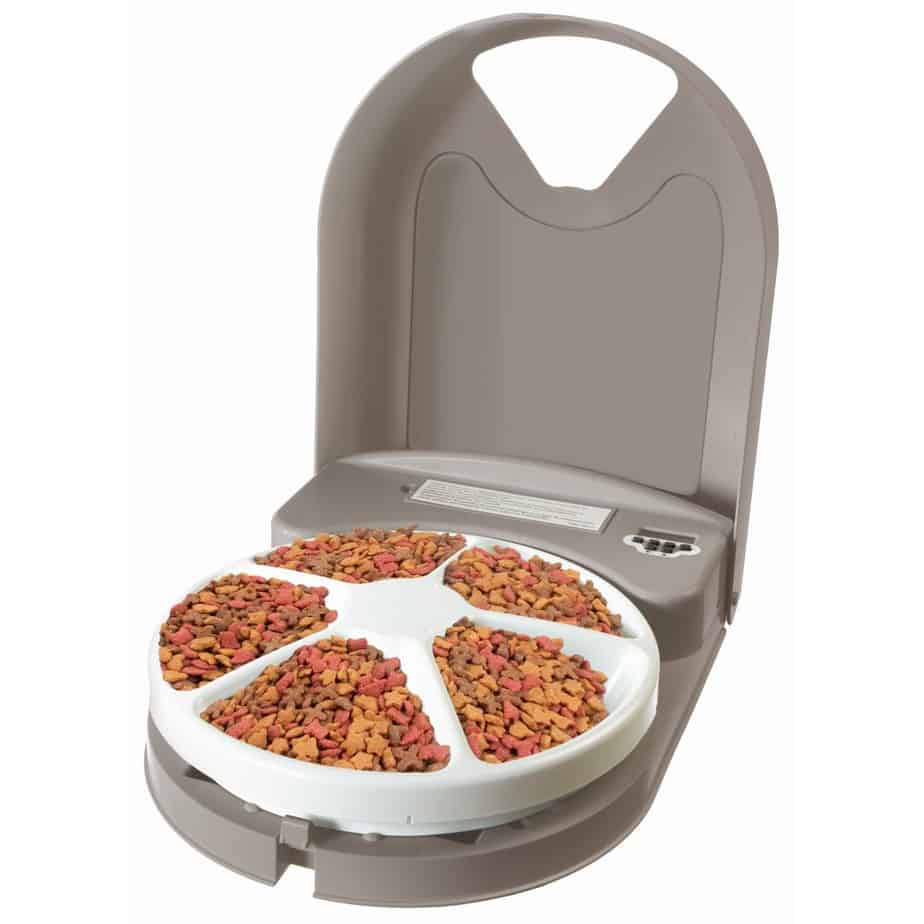 The Good
5 Meal Capability
Easy to Program
Dishwasher Safe
Semi-Moist Food Compatible
Durability
Main Features of the PETSAFE 5 MEAL PET FEEDER
So first things first. Let's start with the rundown. The PetSafe 5-Meal Automatic Pet Feeder gives plenty of features. I wouldn't say it's fully loaded but it's good.
5 Meals
It can dish out 5 meals on the schedule you set. So feed your pet once a day for five days, five times every day, or any other combination.
Feeding Trays
It's equipped with five 1-cup portion trays. So you can feed your cat up to 5 cups of food in any give day or over five days. And you have total control over the portions.
Secure Lid
There is no hopper, though. The lid has a secure latch, so your kitty isn't breaking into the food while you're gone. But those five meals is all you can program at once.
Timer
The electronic timer is easy enough to set.
Ready-made for Dogs
It's really optimized for cats. Your dog could use it but it better be a small dog.
Dishwasher Safe
The tray is dishwasher safe and made of BPA-free plastic. It's also super Cto remove and clean.
Battery Powered
It uses 4 D batteries that you'll need to buy separately, which is pretty standard. There is no adapter.
Light and Small
The PetSafe 5-Meal Pet Feeder comes in at nearly 4 pounds and stands at 15 x 5 x 18 inches.
Standout Features
So why do I love PetSafe 5-Meal Automatic Pet Feeder? Well, one major reason is right there in the title. The PetSafe 5-Meal Automatic Pet Feeder gives you five . . . count 'em five . . . feeding chambers. This is fantastic.
Small Meal Management
Think about it. That gives you tremendous flexibility to get your cat to eat smaller meals throughout the day. Or dispense some medication along with kibbles.
Semi-Moist Food!
The unit can accommodate semi-moist food, which is great if you've switched your cat over to semi-moist. (Some people say they're using wet food. It'll probably work but this feeder is not optimize for that. Just bear that in mind. You'll need to set up an ice pack or two underneath the unit.)
Here's some things to thing about . . . If you're putting in long hours at work, the PetSafe 5-Meal Automatic Pet Feeder can keep up with you. Programming five meals is great. Not all automatic cat food feeders are created equal. This is a lot of muscle and flexibility that this unit is giving you to set the feeding schedule for your cat and control the portions.
However, if you're going on extended vacations, this won't work unless you want the cat sitter to set the meals every day or every other day. You just don't have a hopper than you can fill for the whole week.  (On the other hand, it does handle semi-moist food. So it just depends on what you're looking for.)
In fact, portion control is totally up to you. The tray is there and you pour as much or as little in each food chamber as you want. It couldn't be any simpler. Love this simple design in cat feeders.
The feeding tray can be tossed in the dishwasher, so that's easy peesy.
And, finally, it's worth noting the excellent customer service reputation the company has earned. Customers rave about the ability to call PetSafe when there's a problem and getting things taken care efficiently and well. This is easy to overlook but, hey, all mechanical/electronic devices are going to encounter some quixotic problem. By all accounts, PetSafe stands by its products. And let's face it: The pet feeder marketplace is full of fly-by-nights and oddly low-profile companies.
Is the PetSafe 5-Meal Automatic Pet Feeder Right for You
This is a tough question. I could say that just about any cat owner who is in the market for an automatic cat feeder would benefit from the PetSafe 5-Meal Automatic Pet Feeder. Got two cats? Get two of these terrific dispensers. That kind of thing. I just don't see a downside.
But that's not all that helpful.
I would say that you should have some tolerance for gadgets. No. You don't have to be a techie, but the timer is not as intuitive and simple to use as some other feeders. I've look over the manual and it's good, but from the buzz on the internet is that the timer seems to like to live on military time. Ugg.
If you travel, you'll likely need a good-sized hopper than can get you through the week. This one isn't going to do that, as I mentioned above even if you're setting to one meal a day.
But if you tend to work long hours and you can't seem to keep the cat or cats on a schedule, this is a very good option.  And unless you keep the feeder in the garage, you should accept a little noise as the machine's mechanism to make a noise when it rotates clockwise to expose the next meal. No a big deal to me but you might think otherwise.
And, finally, if your cat is overweight or getting older and needs medication, this perfect for controlling portions and/or setting up to five smaller meals throughout the day and night.
Overall, if you're looking for something that will last and gives you lots of control, this is a great choice.
The Bottom Line
Let's boil all this down.
I'm clearly a terrible poker player because I showed my hand from the start. That's OK. I love cats and want the very best for them. So if you've already gotten the drift that I'm a fan of the PetSafe 5-Meal Automatic Pet Feeder, you're right.
And if it makes life easier for you, then so much better. This feeder will avoid your cat waking you guys up at 4:30 in morning. The research shows that half of all our pets are overweight or obese. If this unit helps you get your cat back in shape, we all win.
The other great things about the PetSafe 5-Meal Automatic Pet Feeder is that it doesn't come all those bells and whistles. It's just steady and simple. Open the top, pour the food, close and secure the lid. Then set the timer and you're done.
There's no phone app, no prerecord voice command for your cat to hear, etc. Don't get me wrong, those things are good and if you need them, check out some of my other reviews of those units by clicking here. But if this is your first dispenser or just want something straightforward, I just don't think you can go wrong with the PetSafe 5-Meal Automatic Pet Feeder with the qualifications I've included above.
And for the price, you really can't go wrong. Check the price by clicking here.
Customer Reviews
The PetSafe 5-Meal Automatic Pet Feeder is a winner when it comes to feedback from customers. On Amazon, the dispenser has almost 3,000 reviews (2,721 as of this writing, to be precise) and has a rating of 4 out of 5 stars.
Sixty-one percent of these reviews are five-star and another 17% are four-star ratings.
Amazon reviewers are famously tough. They're as good an indication that this unit is solid and you won't have to worry about being dissatisfied with your purchase.  What's more, the Wirecutter did a review of feeders and came to the conclusion that the PetSafe 5-Meal Automatic Pet Feeder was best of the bunch. That's as solid as it's gonna get.
Where To Buy PetSafe 5-Meal Automatic Pet Feeder
I highly recommend PETSAFE 5-MEAL AUTOMATIC PET FEEDER from Amazon as you'll not only be able to see all the reviews yourself and check out the features, you'll also be able to get superfast delivery, especially if you have a prime account.
Also, Amazon is as reliable as they come and you can rest assured it'll make sure that you get your product.
I'd say that you head on over to Amazon to check out the PetSafe 5-Meal Automatic Pet Feeder.
Click here to buy the PetSafe 5-Meal Automatic Pet Feeder at Amazon
Other Recommendations
Not sure the PetSafe 5-Meal is right for you. Here are some of favs.
| | |
| --- | --- |
| PetSafe Healthy Pet Simply Feed Automatic Feeder | SureFlap SureFeed |
| This is the big one. The feeder can serve up to 12 meals a day. Yeah, you heard me right. And it's super easy to program. If you're still undecided, this is my go-to feeder. | This is the little one. But great RFID technology. And it't totally capable of dishing out wet food. You wanna keep your cat healthy, this is a good option. Read the full review here. |
| PetSafe Healthy Pet Simply Feed Automatic Feeder Review | SureFlap SureFeed Microchip Pet Feeder Review |
| | |
| Westlink 6L Automatic Pet Feeder | Cat Mate C3000 |
| Super quality and rates very high with users of this smart feeder. Packs in 25 cups and has a sensor that checks for food in the dish. Check out my review here. | A midsized option with a hopper capacity of 6.5 cups and up to three meals a day. This compromise might be just what you need. Check out my review. |
| Westlink 6L Automatic Pet Feeder Review | Cat Mate C3000 Automatic Dry Food Pet Feeder Review |
| | |