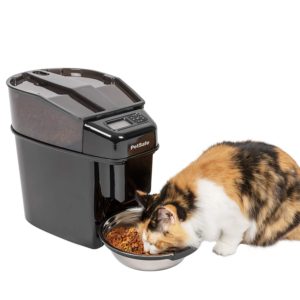 I love this automatic cat feeder. Wow. I don't suppose you want to go play Texas Hold 'Em with me?
Oh, well.  Totally understand. Just so you know where I stand when it comes to the PetSafe Healthy Pet Simply Feed Automatic Feeder. I've noted in the past that PetSafe has an excellent reputation and if you're looking to purchase the perfect cat feeder, then I hope this review will help you determine if this model is the one.
The PetSafe Healthy Pet Simply Feed Automatic Feeder is all about capacity. It's got a very large hopper and is as sturdy as a tank. If you need lots of flexibility when it comes to programming meals and don't want to have to fill the doggone thing every night, this may just be the right choice. But I'm getting ahead of myself.
PetSafe Simply Feed Automatic Feeder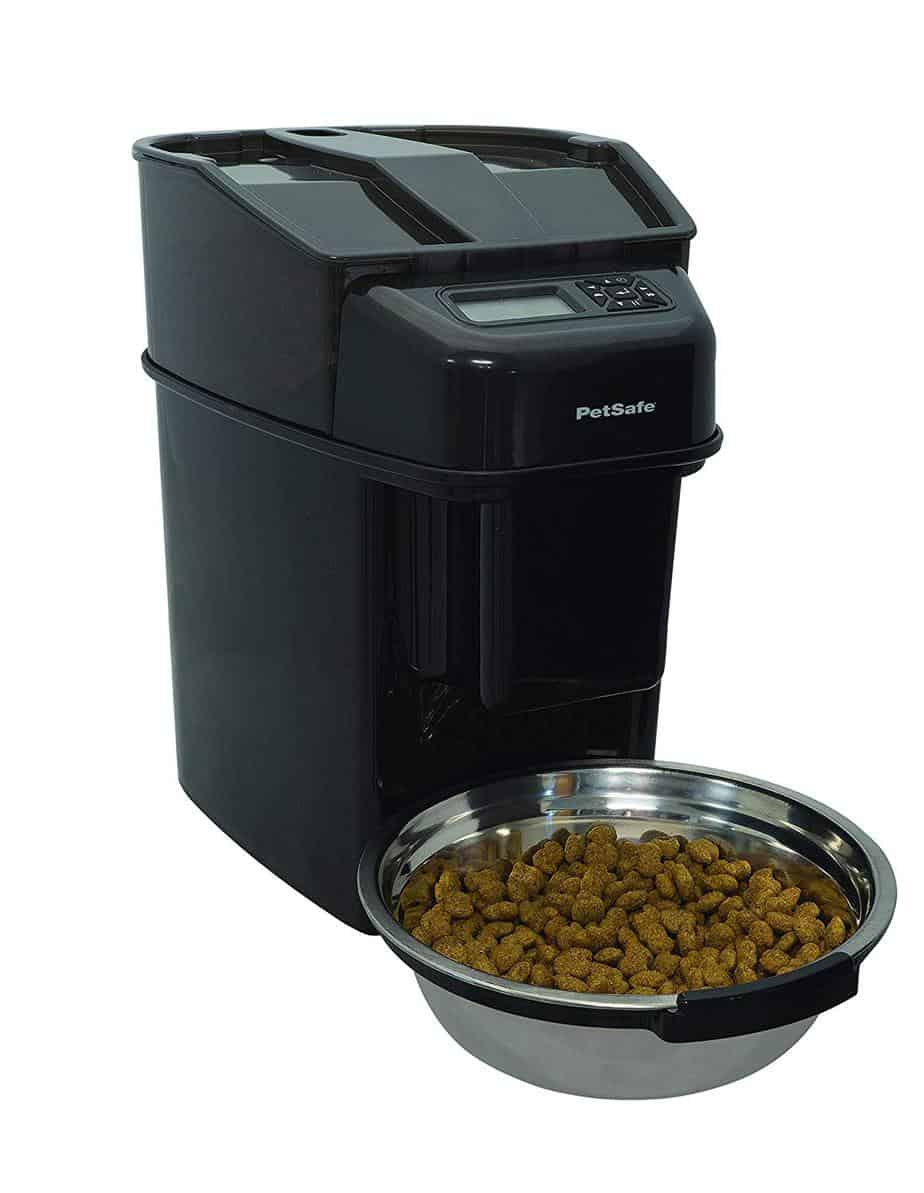 The Good
Can serve up to 12 meals a day
Large capacity hopper
Excellent portion control
Pause feed mode
See through hopper
Semi-moist food compatible
Stainless steel bowl
The Bad
Apportioning of meals not 100% precise
No wet food
Just a word on how my reviews work. First, I'll take you through the features of the PetSafe Healthy Pet Simply Feed Automatic Feeder. Essentially, it's the bells-and-whistles tour. Then I give you a sense of the what people who have purchased the model are saying about it. Amazon reviews should be taken with the proverbial grain of salt, but overall are worth factoring into a decision. And, finally, I'll throw in a recommendation or two if you'd like another option.
If you want to cut to the chase, I get it. To buy the PetSafe Healthy Pet Simply Feed Automatic Feeder, click here to Amazon where you'll be able to see the full product listing, reviews and you will also be able to see any deals that are available.
Click here to check out the PetSafe Healthy Pet Simply Feed Automatic Feeder at Amazon
Main Features of the PetSafe Healthy Pet Simply Feed Automatic Feeder
Wow. Where to start. I say that because the PetSafe Healthy Pet Simply Feed Automatic Feeder is jam-packed with features. I'm gonna stick to the big things.
A Ton o' Meals
The feeder can serve up to 12 meals a day. Yeah, you heard me right. That's as robust as they come in the automatic feeder marketplace. That gives you a ton of flexibility. A TON! I'll get more into this later on.
Portion Control
As with the other PetSafe units, you have complete portion control. You can set each of the 12 meals from 1/8 of cup to 4 cups. Wow. That's a big meal. More flexibility. (But, no, you can't program a meal that dispenses less than 1/8 of a cup.)
Slow Feed
I like this feature. I mean I really like this functionality. The unit can dispense meals over 15 minutes to prevent your cat (or dog, for that matter) from scarfing up all the kibbles too fast. If you're cat has a tendency to gorge himself and then upchuck the whole thing, this is feature you should consider very closely. Not many feeders come with this feature.
Pause Feed Mode
We're seeing more of this in newer units. I love it; it was about time. This mode gives you the flexibility to temporarily stop feeding without losing all your programmed feeding schedule. No more starting all over each time.
Presets
It comes with two preset cat feeding options. (Both are for two feedings a day.) PetSafe is just trying to make things easier for you. If it works, great. But not a big deal to program your own schedule for your cat.
See Through
The hopper is translucent. Hurray! So many makers of cat feeders make it impossible for us to know how much darn food is left in the hopper. C'mon. Work with me here. Not an issue with this great unit. You can see the food level easily.
Semi-Moist
Given it can serve up so many meals, the hopper holds a whopping 24 cups of dry food. But that's not even the best part. It can also serve semi-moist food. Wowee! I'm falling so hard for the PetSafe Healthy Pet Simply Feed Automatic Feeder. For those of us who feed moist or semi-moist food to our pets, there just aren't very many options. This is a great one.
Stainless Steel
The bowl is stainless steel and it and other parts are dishwasher safe. Double wowee. No chin acne or allergic reactions here. A stainless still bowl is really the best option for any cat. (In my humble opinion.)
AC/DC
And, yes, it has a power adapter. You'll have to buy it separately but this is so worthwhile. Some of us don't want to get batteries with this thing. And redundancy is good. If the power goes out, the machine will keep right on ticking. (It takes 4 D batteries.)
Good Size
It's big and study, measuring 9" W x 19" L x 12.5" H
The PetSafe Healthy Pet Simply Feed Automatic Feeder's Standout Features
I could go on and on. Can you tell? Yikes. The PetSafe Healthy Pet Simply Feed Automatic Feeder comes with so many great features. PetSafe has really made a robust machine that gives you a ton of flexibility in terms of scheduling, feeding throughout a given day and controlling portions.
So what are some of its best features?
Where do I start. Flexibility, to me, is key when considering the PetSafe Healthy Pet Simply Feed Automatic Feeder. This machine will work with you whether you're training your cat to eat on a new schedule or you mostly need it because you travel or don't get home until late.  The PetSafe Healthy Pet Simply Feed Automatic Feeder has so much capacity and you can program so many meals in advance (12), you just can't go wrong.
And l love the little touches that go such a long way. Making available, for instance, a power adapter. Not all, or even most, dispensers have one available. So I appreciate PetSafe going to the bother.  And making the lid see-through is so helpful. Trust me on this. Like other PetSafe feeders, the lid locks so don't worry about your cat clawing her way into the food.
This bad boy is as close to a set-it-and-forget-it dispenser as it gets. You could just about set the kibble supply for up to two weeks. I'm not saying you should do that, but with this unit, you could. That's what I'm talking about. Flexibility.
Is the PetSafe Healthy Pet Simply Feed Automatic Feeder for You?
I'm predisposed to say yes almost without qualifications.
But I'll step back.
This is a lot of machine. It's definitely for you if you travel. Vacations. Work. Long weekends. As I said, you could virtually program this monster to dish out meals for two weeks. What about your techie skills? If you're not much into programming stuff, then you're in luck.
The PetSafe Healthy Pet Simply Feed Automatic Feeder is super simple to program. I've looked over the manual and, trust me, you won't have any problem setting things up. There are some feeders on the market that are so intuitive you don't need the manual. I wouldn't go that far with this unit, but programming the feeding times shouldn't cause you a headache.
Here's one thing, though. If your working on having your cat slim down a bit, then it's probably not the machine for you. There's been buzz that the feeder's portion control is not the most accurate. A site I really respect, Wirecutter, tested it pretty rigorously.
"Yet like all dispenser-style automatic feeders we tested," the site found, "it often dispensed too much food, sometimes overshooting by ¼ cup to 1½ cups."
I agree about portions never being perfect. I've experienced. You can, of course, factor this in, but still . . . Just something to consider. As I say, if portion control accuracy is your No. 1 priority for health or other reasons, this dispenser may not be for you.
And if you just have one cat and he's a relatively light eater, this is likely more machine than you're gonna need. Look, you can fill the hopper and go for the whole week. But there are smaller options that will work for you.
Finally, wet food. Alas, the PetSafe Healthy Pet Simply Feed Automatic Feeder doesn't accommodate wet food. Only semi-moist.

The Bottom Line
Overall, however, it's hard not to love the PetSafe Healthy Pet Simply Feed Automatic Feeder. The machine packs quite a wallop. It comes loaded with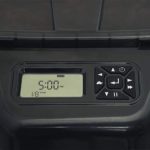 features that make it so easy to clean, program and keep juiced up and feeding your Fido. In fact, the control panel is on the top of the unit, which is better than the PetSafe 5-Meal. Just makes programming that much easier.
It's big and sturdy, so there's no tipping this bad boy over. The lid is secure, so your cat isn't getting into the chow.
Oh, and I should mention, this feeder is rated strictly for indoor use. No taking this thing outside. Keep that in mind. And one last thing to note: Yes, it has slow-feed setting but if you're cat eats less than an 1/8 of a cup at each meal, then it won't work. The machine slow-feed setting means it apportions serving at an 1/8 of a cup. Just so you know.
All in all, I love PetSafe Healthy Pet Simply Feed Automatic Feeder. Can't recommend it enough. It's probably my favorite feeder of them all!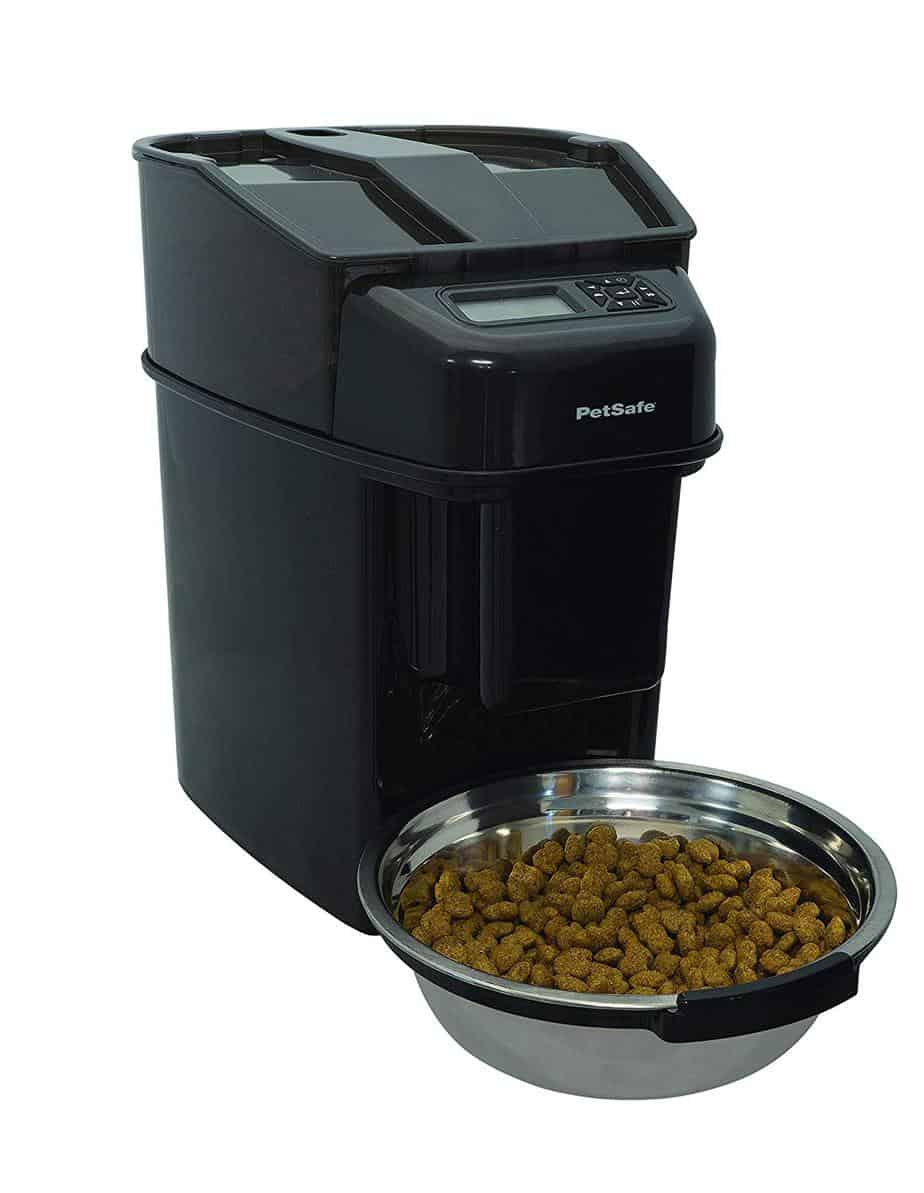 Customer Reviews
The PetSafe Healthy Pet Simply Feed Automatic Feeder has very strong positive reviews on Amazon. The dispenser an overall rating of 4.2 out of 5 stars and has nearly 2,200 reviews (at the time of this writing).
Specifically 62% of the reviews are five-star and 20% are four-star rating. That's very good.
And if that wasn't enough, the unit has earned Amazon's Amazon's Choice badge, so that's pretty much the cherry on top.
I'm not surprised. PetSafe is leader in the industry with, as I mentioned earlier, a solid reputation and excellent customer service.
Where To Buy the PetSafe Healthy Pet Simply Feed Automatic Feeder
Well, having just mentioned Amazon, I'd say that's your best best.
It just makes the most sense. Amazon is totally trusty as you can peruse the reviews yourself and check out the features and description. And you'll get fast delivery, especially if you have a prime account. And there's never any problem returning stuff, if it comes to that.
Click here to buy the PetSafe Healthy Pet Simply Feed Automatic Feeder at Amazon