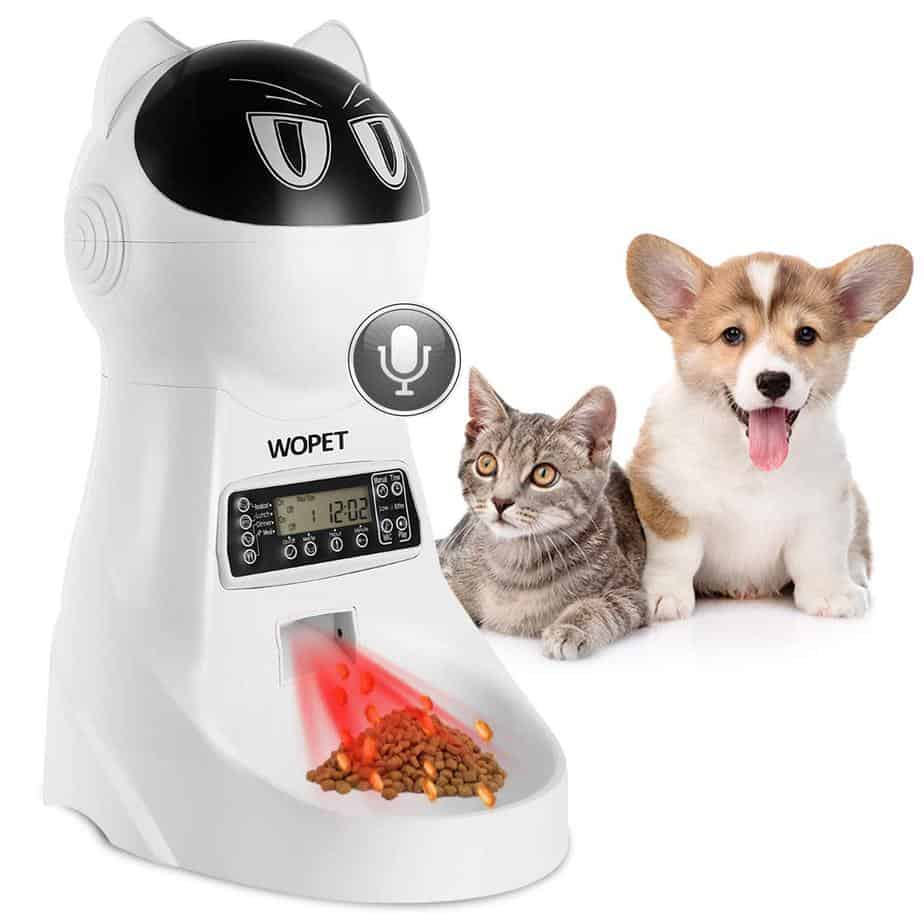 All right. Can't wait to get into this affordable automatic cat feeder: the Wopet F03 Pet Feeder. If you like Wopet and the 7L is too pricey, then you might just be in business with the Wopet F03 Pet Feeder. But, like so much in life, it's gonna depend.
On what? Well, I'll get to that as sort through the various pros and cons of this surprising little automatic cat feeder. In fact, the Reader's Digest version is that the Wopet F03 Pet Feeder is tough, well made, and comes with array of features that you'll only find if you go up market. And it's pretty easy to program. So this may be the right choice for you and your cat, if you're not looking for volume—a large hopper and programming a gazillion meals all at once.
Wopet F03 Automatic Cat Feeder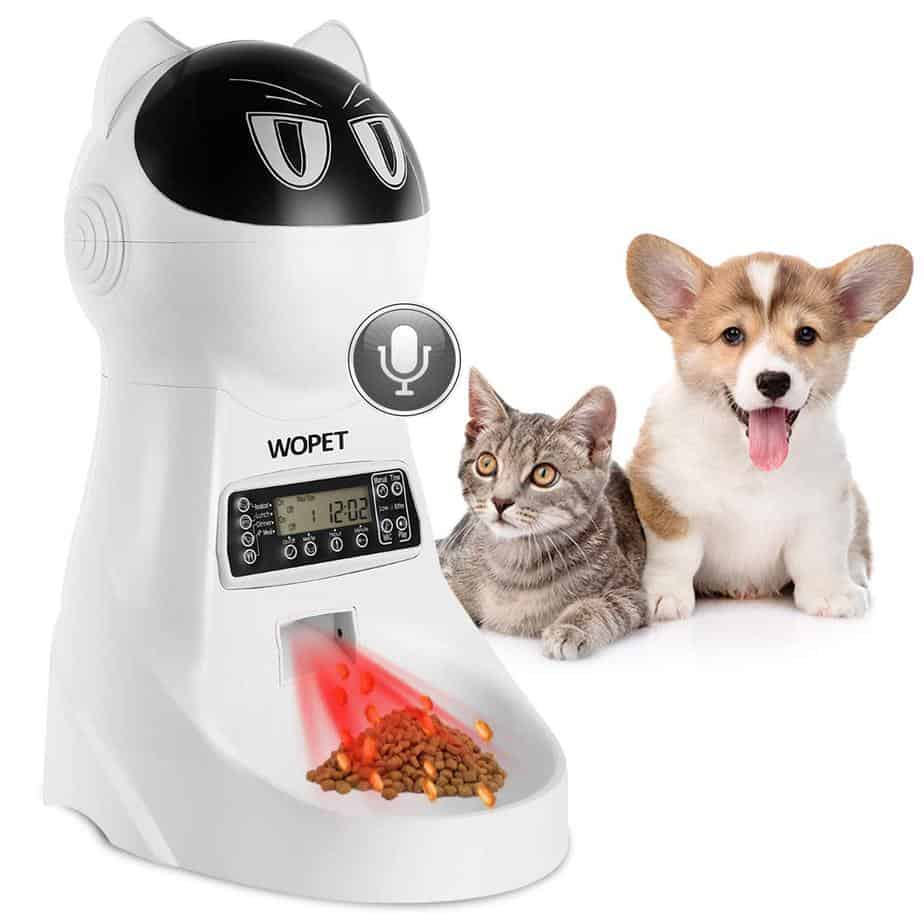 The Good
Infrared Food Detection
4 Meals per Day
Portion Control at 1 Teaspoon to 2.5 cups
Manual Override
Voice Recording Capabilities
So I'll take you through the features that come with the Wopet F03 Pet Feeder, and then give you a sense of what Amazon buyers are saying about the feeder. I'll finish up, as I always do, with some recommendations on other choices, if the Wopet F03 Pet Feeder isn't quite right for you.
If you're in a hurry and you just want to buy the Wopet F03 Pet Feeder, I get it. As I've said before, I'm that way too sometimes. Just go ahead and then click here and go on to Amazon where you'll see the full product listing, customer reviews and you'll be able to check on on deals or promotions.
Click here to check out the Wopet F03 Pet Feeder at Amazon
The Wopet F03 Pet Feeder is good choice for a smaller dispenser. If you're looking for a larger capacity and all-around great (and I mean my top choice) automatic cat feeder, make sure to check out my review of the PetSafe Healthy Pet Simply Feed Automatic Feeder.
Main Features of the Wopet F03 Pet Feeder
Wow. Where to start? As I mentioned, the Wopet F03 Pet Feeder has some great features. It's obviously the more affordable little brother to the company's flagship Wopet F01 7L. (Good lord, you can store up 20 pounds of kibble in that hopper!) The Wopet F03 Pet Feeder has a fair bit less capacity, but I still love this feeder. Here's why some of the reasons why . . .
Feeding options. You can program up to 4 feedings a day. That's good. You can go up in price point and get more programming options and you can certainly get fewer feed options. This, like all things involving this feeder, is a good solid offering.
Great range. So how's the portion control on this thing? Pretty good. Your looking at the smallest serving at about 1 teaspoon (5 grams) and go up from there. You have up to 39 portion settings for each meal. The maximum amount of kibble you can store in the hopper is 2.5 cups. I'd say the average adult cat will take 5-10 portions per meal.
Wet food? No. So this is key. If you're feeding wet food to your fur baby, this will not work. The food pellet size that it will accommodate ranges from 0.2-0.6 inches in diameter. Keep that in mind.
The feeding tray is totally dishwasher safe and easy to clean.
You can, of course, program the feeding times and, yes, there is a manual override. You just press and hold the manual button for three seconds and out comes the kibble.
And I'm gonna throw this in: Wopet actually has a good website (a rarity in this market) that's worth visiting if you're thinking of purchasing the unit.
Standout Features
So now you have a basic idea of what the Wopet F03 Pet Feeder can do. Let's dig a little deeper. What sets this little feeder apart? Well, it has some very nice touches for the price.
This affordable feeder has a built-in voice recorder. It works much like the other voice recorders in the market. Just press and record yourself calling your cat to eat. It's a 10 second recording. It's a nice touch and that some people really want in their feeder.
It comes with a USB adapter. Hooray! It's one of my pet peeves. So you can go with a batteries (3 D batteries), you can plug it in. I really appreciate companies who design pet feeders with this option.
It also comes with a built-in IR detector to keep the the kibbles from jamming. The IR detector will have the right angle to prevent the food from clogging or overflowing. Though it bears mentioning that this feeder is really designed for small kibbles. If your cat eats food with larger kibbles, this is not the right feeder for you.
The control panel is fairly straightforward and accessible. Some feeders are so well designed, you don't even need the manual. You'll want to read over the manual with this feeder, but there really isn't much to it in terms of programming the meals.
Thankfully, the control panel will flash a warning when the battery is running low. You'll be surprised how many feeders don't include this vital feature. Good grief!
Who Should Buy the Wopet F03 Pet Feeder
Give the 2.5 cup capacity of the hopper, if you're going on weeklong vacations and are looking for an option for those periods,  this probably isn't the right choice. Not that it won't work. The cat sitter can certainly refill the hopper a couple of times while you're gone but in that event, there are better options, including the Wopet 7l.
Now, those other options are more expensive, which gets me to who should seriously consider this solid and efficient feeder. For the cost of this feeder, you're getting quite a lot. So who should buy the Wopet F03 Pet Feeder? The budget conscious.
It's a great deal. You're getting substantial portion control, a USB adapter, voice recording, and a well made machine from a reputable company. You're not getting a great deal of capacity given the hopper only holds 2.5 cups. (Don't mean to beat a dead horse but I want to be clear about this.)
In many cases, that's fine. And it's more than fine if you've got or will be getting your cat on a diet. And the lid is totally secure, so your cat is not gonna find a way to break into the food.  (Two minor annoying this are (1) the silly cat design of the feeder (OK, I can live it) and the inability to know how much pet food is left in the hopper with out have to unscrew the top).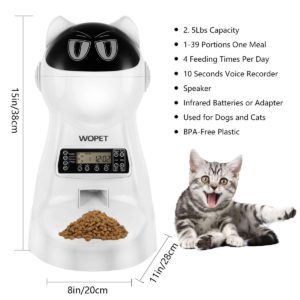 This isn't an upmarket product and you're not paying those prices, either. For example, the voice recording is rather shallow and cheap sounding. But who cares? It just a 10 second recording of you calling your cat.
The machine is a bit noisy. But so are a lot of the more expensive models.
You guys get what I'm saying?
The Bottom Line
The wouldn't hesitate to recommend the Wopet F03 Pet Feeder overall. Please take not of my qualifications. This is not a machine that dishes out wet food. If that's what you're looking for, click here to see my go-to option. If you cat likes large kibbles (bigger than 1 cm or so), then the kibbles are going to jam in the feeder.
Or if you travel a great deal. For that, there are better options.
Otherwise, the Wopet F03 Pet Feeder is great option at a reasonable price. In fact, you get a bunch of higher end features that make the Wopet F03 Pet Feeder is great choice.
Customer Reviews
The Wopet F03 Pet Feeder gets pretty solid reviews on Amazon.com. Overall, the feeder has a rating of 4.5 out of 5 stars and as I write this 166 customer reviews. In fact, it's ranking among the bestsellers on Amazon.
Seventy-seven percent of the reviews another 16% are four-star rating. That's very good.
I don't think you have anything to worry about based on the reviews on Amazon.
Where To Buy Wopet F03 Pet Feeder
And speaking of Amazon, I almost always recommend buying stuff from Amazon and it's no different with the Wopet F03 Pet Feeder. Why? Because you get to see all the feedback and reviews and you get  superfast delivery, especially if you have a prime account.
And Amazon really takes care of you, the customer, if there is a problem.
So I highly recommend heading over to Amazon to check out the Wopet F03 Pet Feeder.
Click here to buy the Wopet F03 Pet Feeder
Other Recommendations
Not sure the  Wopet F03 is right for you? If you're not sure, then you should definitely keep looking. Here are some of favs to get you started.
| | |
| --- | --- |
| PetSafe Healthy Pet Simply Feed Automatic Feeder | SureFlap SureFeed |
| This is the big one. The feeder can serve up to 12 meals a day. Yeah, you heard me right. And it's super easy to program. If you're still undecided, this is my go-to feeder. | This is the little one. But great RFID technology. And it't totally capable of dishing out wet food. You wanna keep your cat healthy, this is a good option. Read the full review here. |
| PetSafe Healthy Pet Simply Feed Automatic Feeder Review | SureFlap SureFeed Microchip Pet Feeder Review |
| | |
| Westlink 6L Automatic Pet Feeder | Cat Mate C3000 |
| Super quality and rates very high with users of this smart feeder. Packs in 25 cups and has a sensor that checks for food in the dish. Check out my review here. | A midsized option with a hopper capacity of 6.5 cups and up to three meals a day. This compromise might be just what you need. Check out my review. |
| Westlink 6L Automatic Pet Feeder Review | Cat Mate C3000 Automatic Dry Food Pet Feeder Review |
| | |