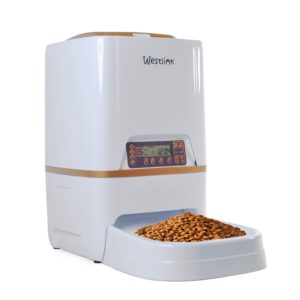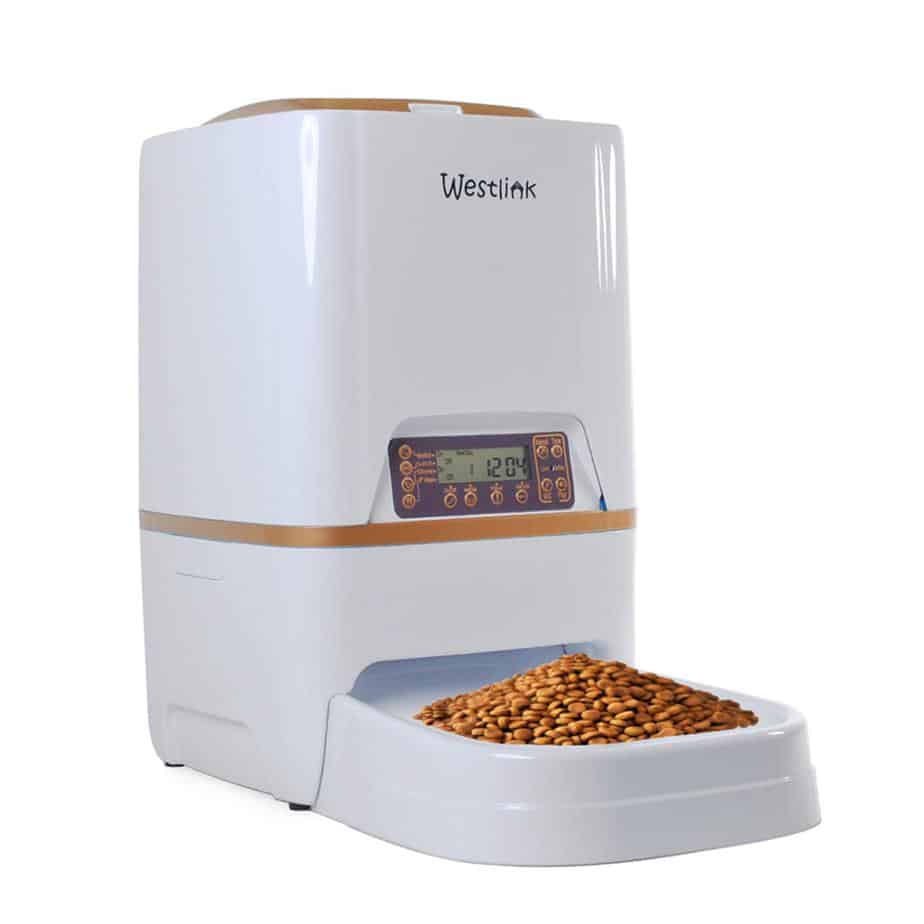 Welcome to my review of the Westlink 6L Automatic Pet Feeder. If you're in the market for an automatic cat feeder, then I've got you covered with this review. I'm hoping I'll help you find out whether this is the right feeder for you and your pet.
The Westlink 6L Automatic Pet Feeder is actually pretty advanced in terms of technology and is well made. Overall, I'm impressed and it remains one of Amazon's top sellers. I can see why. It's got massive capacity and some smart technology, which might make this the right choice for you. But let's find out.
As some of you already know, I'm first gonna walk you through the features that come built into the Westlink 6L Automatic Pet Feeder, and then I'll also give you sense of what people who have purchased the dispenser via Amazon are saying. Finally, I'll wrap things up by giving you some recommendations on other choices, if you want to keep looking.
I try to be as comprehensive as I can when reviewing a cat feeder. So how do I put this . . . umm . . my reviews tend to be on the longer side. Just saying! If you're in a hurry and you just want to order the Westlink 6L Automatic Pet Feeder, I get it. Go ahead and click here and go straight through to Amazon. Make sure to read the full product listing and some of the customer reviews. And, of course, check on any deals or discounts that might be available.
Click here to check out the Westlink 6L Automatic Pet Feeder at Amazon
The Westlink 6L Automatic Pet Feeder is good choice for a large-capacity dispenser. If you're looking for a great large, all-around (and I mean my top choice) automatic cat feeder, make sure to check out my review of the PetSafe Healthy Pet Simply Feed Automatic Feeder.
Westlink 6L Automatic Pet Feeder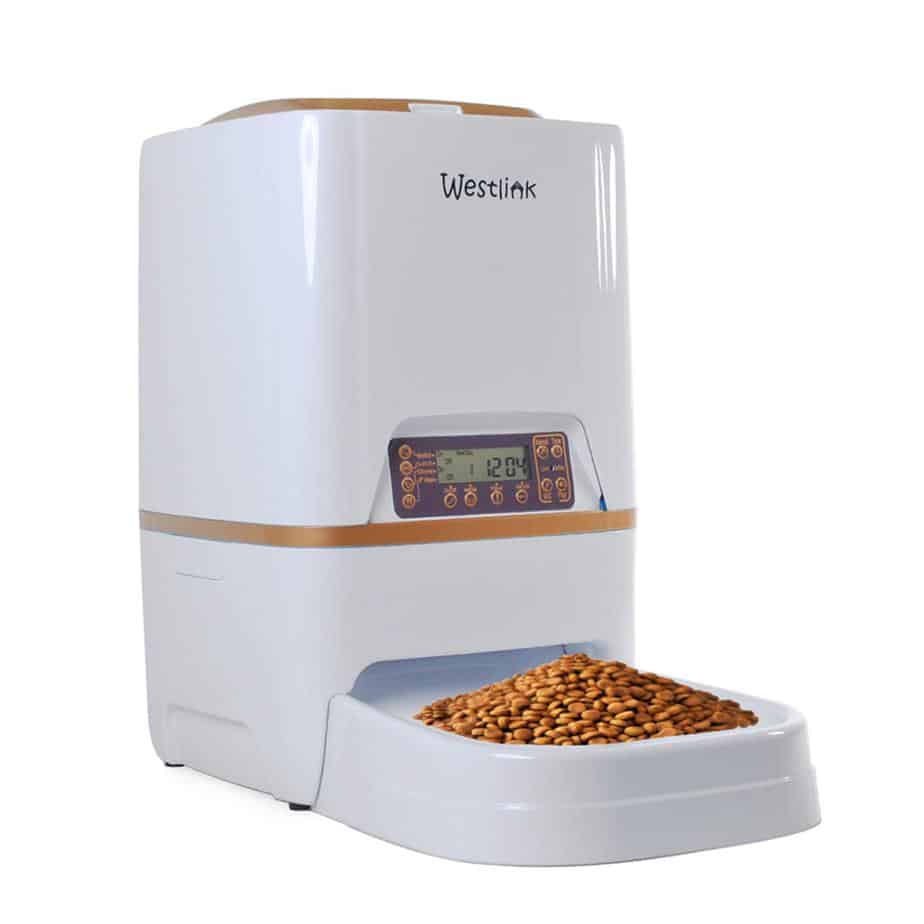 The Good
Smart Sensor Technology
Large Hopper Capacity
Voice Recording Capabilities
4-meal Programmable
The Bad
No wet food
No kibbles larger than 1 centimeter
Main Features of the Westlink 6L Automatic Pet Feeder
The Westlink 6L Automatic Pet Feeder definitely doesn't scrimp on features. Here's my take on the most essential ones.
Smart Feeder
This smart beast of a dispenser has a sensor that checks the bowl before dispensing any kibble. If it senses there's still food in the bowl, it's the programmed meal time.  Smart. Very smart.
Massive Capacity
Large hopper. It holds up to 25 cups. That puts it near the top (though not the largest) in terms of capacity. That means you  won't have to be filling this bad boy everyday.
Strong Portion Control
You can program up to four meals a day and have pretty substantial portion control starting at about  1/8 of cup increments. That's pretty standard and more than plenty for most pet owners.
Voice Recording
Has a built-in voice recorder. This has never been an issue for me. But the 10-second meal call is important to some. In this sense, the Westlink 6 Automatic Pet Feeder is in line with other feeders that allow for voice commands.
AC/DC
You can run it on 3 D batteries or a USB. Redundancy is great in case the power goes out.
Standout Features in the Westlink 6L
The Westlink 6L Automatic Pet Feeder get a lot of things right. In fact, it tends to get glowing reviews on Amazon. If I had to narrow it down to one or two standout features, though, I'd have to say workmanship and flexibility. OK. That's two things. Sorry.
This machine is built to last. Westlink has manufactured a really solid, reliable dispenser. I never underplay this aspect of things. You just don't need the hassle of problems with getting the dispenser to work properly. And given the large hopper and the various portion options, you have as much control as you'll need.
There are feeders with larger hoppers but not many. The Westlink 6L Automatic Pet Feeder has plenty of muscle (six pounds of hopper capacity). Unless you have lots of pets, this should be more than plenty. So if you travel or are away a fair bit, this is an excellent option.
And I love that the dispenser has that sensor. Wasting food is frustrating. This dispenser will keep food fresh and make your cat eat the food that's put out. That's a good thing.
Who Should Buy the Westlink 6L Automatic Pet Feeder
If you're looking for a very good, durable automatic cat feeder, then the Westlink 6L Automatic Pet Feeder should be on your list.
If you're not into a ton of bells and whistles and complicated programming, this is a good choice. I've looked over the manual but programming this bad boy is not hard. It's actually pretty intuitive.
Now if your cat eats wet food, this is not an option. And if your cat eats kibbles that are larger than .39 of an inch, pass on this feeder. The kibbles will choke the machine and cause you all manner of problems.
Other than that, the Westlink 6L Automatic Pet Feeder may be the most dependable and easy-to-use feeder on the market.
The Bottom Line
I just don't see a downside with the Westlink 6L Automatic Pet Feeder. There is no wet food capabilities. Too bad. However, I have to say the health benefits of wet food are a little oversold. As the vets at Tufts University put it,
In the end, in the absence of health concerns, either dry or canned food or a combination can be fed to cats or dogs and you should make this decision based on your pet's individual needs, and your lifestyle, budget, and other factors.
Anyhow, I digress. Overall, I give the Westlink 6L a hearty recommendation. What I like most is that it's no frills machine that doesn't waste our time with unnecessary things.
And I appreciate that they've built in the voice recorder. Again, that's not something I need but many people express a desire to record a meal call. I totally get that and you just don't see it on many models.
I'm fan of Westlink. The company has been very thoughtful in putting the feeder together to be both comprehensive while staying simple and easy to use.
Customer Reviews
The Westlink 6L Automatic Pet Feeder has excellent feedback from customers on Amazon. This automatic cat feeder has a rating of 4.4 out of 5 stars and as I write this has more than 430 reviews.
Sixty-eight percent of the reviews are five-star and 18% are four-star rating.
So the feedback is superb and you can feel can feel confident you won't be dissatisfied with your purchase.
Where to Buy the Westlink 6L Automatic Pet Feeder
I highly recommend getting the Westlink 6L Automatic Pet Feeder at Amazon.  Amazon is super dependable and you can get superfast, delivery especially if you have a prime account.
So head over to Amazon to check out the Westlink 6L Automatic Pet Feeder.
Click here to buy the Westlink 6L Automatic Pet Feeder at Amazon
Recommendations