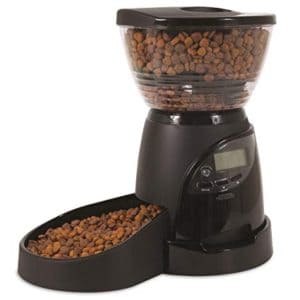 Thanks for dropping by my little corner of the internet. If you've found your way here, then you're in the market for a good automatic pet feeder. If so, you've come to the right place. I'm going to review one of the most popular models on Amazon and one of the most popular manufacturers when it comes to "automatic cat feeders."
So I love cats and gadgets. I'm not a vet or some kinda real geeky techie. I'm just like you. I needed an automatic cat feeder and fell down the rabbit hole. So many. So many features. All shapes and sizes. I learned a lot and if this review of the Aspen Pet Lebistro Programmable Food Dispenser or the bunch of other ones I've written about can help you, my job is done.
Aspen Pet Lebistro Food Dispenser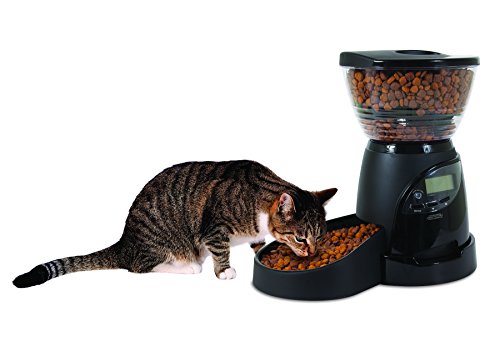 The Good
Large 30 Cup Hopper
Easy to Program
See-Through Hopper
Paddle Wheel Design
The Bad
No Wet Food
Only 3 Meals Per Day
Food Chute Not Full Proof
What I do is run you through the key features of the feeder and then give you a sense of what people who have purchased the unit are saying on Amazon. Then I finish up with some recommendations of other automatic cat feeders in case the Aspen Pet Lebistro Programmable Food Dispenser isn't what you need.
If you're in a hurry and want to check out the Aspen Pet Lebistro Programmable Food Dispenser at Amazon, I get it.  (I know these reviews are too long; cant' help it.) You can go ahead and head over to Amazon by clicking here. Make sure to read the full product description and check a few of the customer reviews.
Click here to check out the Aspen Pet Lebistro Programmable Food Dispenser
Editor's Note: The Aspen Pet Lebistro Programmable Food Dispenser is good choice as a mid-sized dispenser. If you're looking for a larger capacity and all-around great (and I mean my top choice) automatic cat feeder, make sure to check out my review of the PetSafe Healthy Pet Simply Feed Automatic Feeder.
Aspen Pet Lebistro Programmable Food Dispenser Reviewkk
So let's jump right in. So what features come bundled into the Aspen Pet Lebistro Programmable Food Dispenser? Here are some key ones you should know right at the start.
Three Times A Day
First, can you program the feeder to dish out food to your cat up to three times a day. That's right in line with other comparable cat food dispensers.
Three Cups a Day
The meals can be programmed starting ¼ of a cup. You can go from that in ¼ cup increments all the way to a maximum of 3 cups. This is quite good. That can cover just about any house cat.
See Through Hopper
The thing looks like a gumball machine. That's good though because the hopper is clear, so you'll always know how much food is left in the feeder. So many feeders make knowing how much food is in the hopper almost impossible with opening the lid and looking. Thanks, Aspen Pet!
Plastic Bowl
The bowl is plastic and easy to clean but it doesn't look dishwasher safe. And it comes off easily with some reviewers mentioning it may come off a bit too easily.
Three Meals
And speaking of bowls, they feeder will dish out up to three meals a day.
Dimensions
As I said, it looks a bit like a gumball machine. The dimensions are 10 inches x 14 inches x 15 inches. It's a good size in my opinion. It's neither too small or too big.
DC Only
The unit takes three D cell batteries. You'll have to buy those separately as they don't come with the feeder. Aspen Pet advises that the batteries should last about six months. And there is no AC adapter.
Standout Features
So let's get to some of thing, if any, that set this feeder apart.
One of the standout features of the Aspen Pet Lebistro Programmable Food Dispenser is the massive hopper. It holds 30 cups of food. That's excellent capacity. You can set up the meals for two weeks in advance for your cat. Ahhh! Freedom.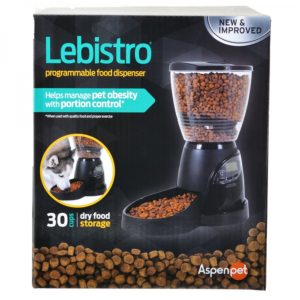 The twist-lock lid is lock tight. It keeps food fresh and there's no way your cat is breaking into the kibble. With that much food available, a super secure lid is essential.
The LCD panel is easily accessible and not hard to program. I've learned to appreciate this fact and when I come across accessibility and simplicity I try to highlight it as a standout feature. The manual is fine but you won't need it. (If you're so predisposed, you can look over the manual here.)
Perhaps the best feature of all is the paddle wheel design. Aspen Pet has built the thing such that the wheel rotates to usher the food out of the chute. That's pretty standard. But the wheel is made of soft, pliable material to prevent jamming. It works very well. Jamming a food dispenser sucks. You don't want that problem and your cat might not get fed or not fully anyway. This is an outstanding design.
And, finally, Aspen Pet has a lot of industrial muscle behind it. It's a division of Petmate, a conglomerate that owns Arm and Hammer and bunch of other huge corporations. Sometimes you just want to stick with the big brands and Aspen Pet is certainly all that.
Who Should Buy the Aspen Pet Lebistro Programmable Food Dispenser
This one is easy. I picked the 30-cup model for a reason. If you travel frequently or vacation over extend periods, this unit comes with one of my highest recommendations. It's a really good dispenser with a huge hopper. You could conceivably set the meals for your cat for the whole week or more that you'll be gone.
If you're just tired of feeding your cat all the time and when a set routine. There are lots of options in the marketplace, but with the capacity of this feeder, you'll be hard-pressed to do better.
But there are some qualification. There's the old wet food bugaboo. Sorry folks, this is strictly dry food. So if your cat is on wet food or even semi-moist, it won't work. Save your money and check out my reviews of the Cat Mate C20 2 Bowl Pet Feeder with Ice Pack or PetSafe 5-Meal Automatic Pet Feeder (semi-moist). Those are definitely better fits.
If you're cat is super resourceful and could conceivably paw his way into the chute and get some food, I'd think twice. Don't think that'll be the issue with 90 percent of cats but maybe your cat is in that 10 percent.
If you prefer to feed your cat several times a day. That is actually the way cats eat in the wild. This unit won't accommodate that.
Having said all that, this is very good feeder with plenty of flexibility with an especially large capacity.
The Bottom Line
Get it. If you've made all the way down here and haven't bailed on me based on the qualifications above, then this feeder will work for you. You could do much worse. It's sturdy and large, so your cat isn't going to break it or somehow damage it. Neither are you. This unit will most definitely lift a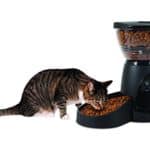 weight of feeding your cat, but bear in mind. You can program three feedings per day. If you need more than that, there are options in the marketplace and I'll list some below.
Customer Reviews
The Aspen Pet Lebistro Programmable Food Dispenser gets solid reviews on Amazon. Overall, the feeder has a rating of 3.1 out of 5 stars and as I write this with more than 1,200 customer reviews. It's ranking among the bestsellers on Amazon right now.
Twenty-nine percent of the reviews are 5 stars and another 20% are four-star ratings. To be fair, many of the poor reviews go back five or six years. In more recent years, Aspen Pet appears to have upgraded it product and the reviews are much better.
Where To Buy the Aspen Pet Lebistro Programmable Food Dispenser
I strongly recommend buying Aspen Pet Lebistro Programmable Food Dispenser from Amazon. Why? Because you get to see all the feedback and reviews and you get superfast delivery, especially if you have a prime account.
And Amazon really takes care of you, the customer, if there is a problem.
So I highly recommend heading over to Amazon to check out the Aspen Pet Lebistro Programmable Food Dispenser.
Click here to buy the Aspen Pet Lebistro Programmable Food Dispenser
Other Recommendations
Not sure the  Aspen Pet is right for you. No probs. Here are some of favs.
| | |
| --- | --- |
| PetSafe Healthy Pet Simply Feed Automatic Feeder | SureFlap SureFeed |
| This is the big one. The feeder can serve up to 12 meals a day. Yeah, you heard me right. And it's super easy to program. If you're still undecided, this is my go-to feeder. | This is the little one. But great RFID technology. And it't totally capable of dishing out wet food. You wanna keep your cat healthy, this is a good option. Read the full review here. |
| PetSafe Healthy Pet Simply Feed Automatic Feeder Review | SureFlap SureFeed Microchip Pet Feeder Review |
| | |
| Westlink 6L Automatic Pet Feeder | Cat Mate C3000 |
| Super quality and rates very high with users of this smart feeder. Packs in 25 cups and has a sensor that checks for food in the dish. Check out my review here. | A midsized option with a hopper capacity of 6.5 cups and up to three meals a day. This compromise might be just what you need. Check out my review. |
| Westlink 6L Automatic Pet Feeder Review | Cat Mate C3000 Automatic Dry Food Pet Feeder Review |
| | |