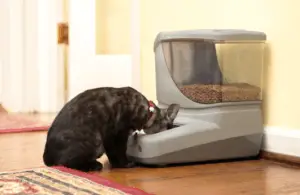 The PortionProRx Automatic Pet Feeder. Wow. I've been holding off reviewing this feeder. Probably because I'm positive person by nature and I really didn't want to be disappointed. I admit it. I was pulling for the contraption.
So I'm jumping in. This is my review of the PortionProRx Automatic Pet Feeder. If you're looking for that perfect automatic cat feeder, then read on to find out if this much-anticipated feeder is the right dispenser for you and your cat.
PortionProRx Automatic Pet Feeder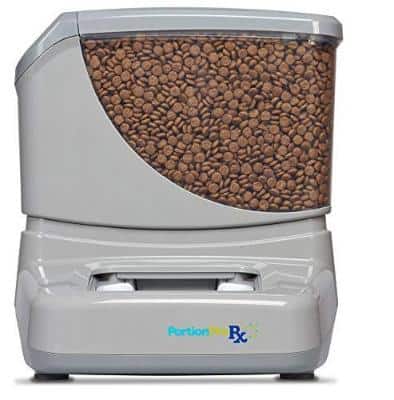 The Good
RFID Technology
Large Hopper Capacity (30 cups)
Ceramic Bowl
Up to 6 Meals a Day
The Bad
No Wet Food
Not the Most Accurate
The reason I was holding off on reviewing the PortionProRx Automatic Pet Feeder is because its super unique in that it's all about making sure the right pet gets the right food at the right time. These guys have really staked out a corner of the automatic feeder market and they've done a good job. If you've got multiple cats or mutliple pets in the house and they don't share very well, then I'm gonna tell you that the PortionProRx Automatic Pet Feeder is one you have to take a close look at and truly consider.
So this is how it's going to work. I'm gonna walk you through some of the key features of the PortionProRx Automatic Pet Feeder and then I'll give you a sense of what people who've have bought the dispenser on Amazon are saying about it. I find that's always a helpful guide. It's not the end-al, be-all but we disregard that feedback at our own peril. And, finally, I'll wrap things up with some recommendations in the event the PortionProRx Automatic Pet Feeder is quite the right fit.
If you're one of those people that like to cut to the chase, I totally get it. I'm that way sometimes with online reviews. Just click here and head over to Amazon where you'll be able to check out the full product listing (make sure to read it over!), look over customer reviews and, of course, see any deals that might be available.
Click here to check out the PortionProRx Automatic Pet Feeder at Amazon
The PortionProRx Automatic Pet Feeder is good choice for a smart dispenser. If you're looking for a larger capacity and all-around great (and I mean my top choice) automatic cat feeder, make sure to check out my review of the PetSafe Healthy Pet Simply Feed Automatic Feeder.
Main Features of the PortionProRx Automatic Pet Feeder
I'm going to get to some of the key features in a moment, but first a problem. The problem, actually–the one the company, PortionProRx, designed PortionProRx Automatic Pet Feeder to solve.
You've got two cats. One cat is old, the other one is much younger. You set out food for them for the day and you got to work. What happens. Cat 1 eats all his food and winds up scarfing up some or all of Cat 2's food.
I think it actually has a name. It's called Fat Cat Syndrome.
Happens all the time.
That's where the PortionProRx Automatic Pet Feeder comes in. As you guys know, I'm just a cat lover like all of you.  So I'm going to describe this simple and clean. You put a tag on your cats' collars. Each has it's own transmitter that automatically opens the feeder. When the other cat comes around wearing a different tag and tries to snatch up the food, guess what? The feeder tray closes and won't open until that cat has left. Problem solved.
This bad boy is a game-changer. So let's take a look at some of its other features.
It's the access control. Duh. As I just noted, it's a key feature. For you gearheads, the tag is an RFID  (radio frequency identification) tag. The technology allows the feeder to know when the food stealer is with two feet of the tray and will react accordingly. Wild!
The hopper, the food bin, can take up to 30 cups. That's great, especially if you plan on travelling or feed your pets several small meals throughout the day. Please keep in mind this dispenser only works with dry food.
The bowl is coated in ceramic. I prefer stainless steel or ceramic than plastic because of the potential for chin acne. This takes that out of the picture. Super easy to clean.
Proportion control is good, allowing you to manage things in increments of 1/8 of a cup, which is standard in the feeder space.
Programmable to feed your cat 2, 4 or 6 times a day. Again, that's great. Right in line with what other feeders do.
It quite sturdy weigh-in at 7 pounds. It's got a kinda a squat design. Not particularly beautiful but your cat or dog knocking this bad boy over. The dimensions are as follows: 12.2" w x 14.3" h x 13.4″l.
Something I very much appreciate is that it has preprogrammed settings for dogs and cats. So you're basically telling the machine ahead of time that the meals are going to be for a cat.
Standout Features
It's got to be the RFID technology. The reason I do these reviews is because I love cats and gadgets. I love to see how private industry and entrepreneurship tackles a problem, solves it, and then gets that solution to us. In this case, PortionPro has really scored a winner.
It's ingenious. I can't say enough good things about the smart folks at that company. What's more, the company hasn't cut corners. It's well-built and sturdy machine built to withstand wear and tear. I mean, it's an indoor machine, for sure. But cats and dogs are not going to break this thing. And coating the feeding bowl with ceramic is a nice touch.
The company could've easily cheaped things out with a plastic bowl but it went the extra mile.
Who Should Buy the PortionProRx Automatic Pet Feeder?
This is the section where I tend to load up on some of the cons, some of the things you should consider before buying it. And like all dispensers, it has some things that may not work well for everyone.
First off, the portion control on this dispenser is so different than others in the space. Why? Well, you control the portions but not individually. You get what I'm saying.
So you've got a cat. You go into the controls and select Cat. Then you basically select how much food you're cat is going to eat for the day and how many meals. Then the PortionProRx Automatic Pet Feeder takes it from there. So if you program a ½ cup of food and two meals in the day, the PortionProRx Automatic Pet Feeder will feed your cat ¼ of cup at each of the two meals.
It's the same but different than some of other dispensers. You should have a comfort level with that approach to portion control.
The programming is easy. So if you're not a techie type or concerned about getting it, it's easy and that shouldn't be a huge concern. I've found that it's actually easier to use an automatic feeder when you just think about how much food you want your cat to eat in a day and how often. It actually works well.
Having said that, the PortionProRx Automatic Pet Feeder comes with one tag. So you'd need to purchase extra ones if you've got more cats, which means you'd have to program each one. I love that stuff, but that may not be you.
And here may be a big one: This unit is strictly dry food. I mentioned this earlier, but it's worth repeating. If your cat eats wet food, this will not work.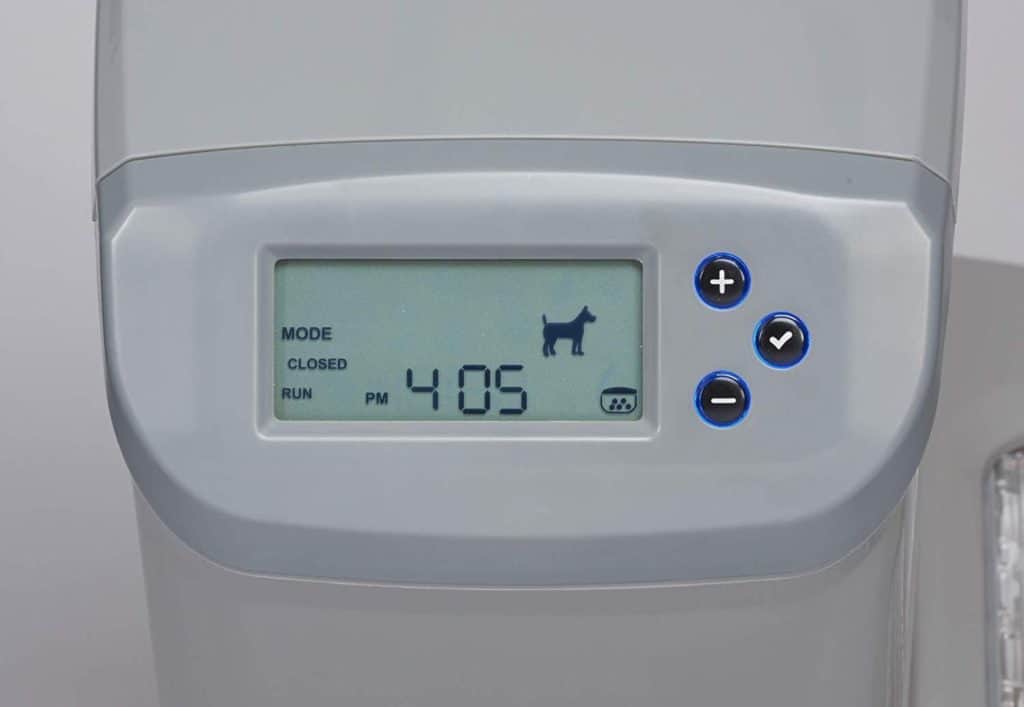 The Bottom Line
In case you couldn't tell 😊, I love the PortionProRx Automatic Pet Feeder. This is one smart company that knows how to position itself in the market. Solve a problem. They have.
The PortionProRx Automatic Pet Feeder is the future. I think we're gonna see the major players in the feeder business come out with their own versions. That should tell you something. This dispenser works on so many levels. Don't have multiple pets. Got it. The PortionProRx Automatic Pet Feeder works as perfectly good automatic cat food dispenser. Have multiple cats, beautiful. You're dream has come true.
Customer Reviews
The PortionProRx Automatic Pet Feeder  shines with the feedback it has from customers on Amazon. This music player has a rating of 4 out of 5 stars and as I write has 30 reviews.
Fifty-seven percent of the reviews are five-star and 23% a very close with a four-star rating.
It looks like the PortionProRx Automatic Pet Feeder is on it's way to being a hit.
Where To Buy the PortionProRx Automatic Pet Feeder
You just can't go wrong getting the PortionProRx Automatic Pet Feeder from Amazon. So I recommend you start there. And you'll be be able to get fast delivery, especially if you have a prime account.
I highly recommend heading over to Amazon to check out the PortionProRx Automatic Pet Feeder.
Click here to buy the PortionProRx Automatic Pet Feeder at Amazon
Other Recommendations
If you're still undecided, I get it entirely. No worries. Pet feeders can be complicated.
So I've got a ton of reviews on this site, so take a look around. And you might want to start by taking a look at some of my faves below.
| | |
| --- | --- |
| PetSafe Healthy Pet Simply Feed Automatic Feeder | SureFlap SureFeed |
| This is the big one. The feeder can serve up to 12 meals a day. Yeah, you heard me right. And it's super easy to program. If you're still undecided, this is my go-to feeder. | This is the little one. But great RFID technology. And it't totally capable of dishing out wet food. You wanna keep your cat healthy, this is a good option. Read the full review here. |
| PetSafe Healthy Pet Simply Feed Automatic Feeder Review | SureFlap SureFeed Microchip Pet Feeder Review |
| | |
| Westlink 6L Automatic Pet Feeder | Cat Mate C3000 |
| Super quality and rates very high with users of this smart feeder. Packs in 25 cups and has a sensor that checks for food in the dish. Check out my review here. | A midsized option with a hopper capacity of 6.5 cups and up to three meals a day. This compromise might be just what you need. Check out my review. |
| Westlink 6L Automatic Pet Feeder Review | Cat Mate C3000 Automatic Dry Food Pet Feeder Review |
| | |