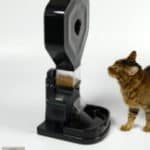 I have been wanting to review this cat feeder for a while but wanted to do this right. I'm talking about the Super Feeder CSF-3 Automatic Cat Feeder. It's gonna be super fun to catch with this homespun and old school-y American company that's still at it after more than two decades. Can't help but root for Super Feeder and luckily, it deserves it.
But I'm getting ahead of myself. In this post, I'm gonna check out the venerable Super Feeder CSF-3 Automatic Cat Feeder. So sit tight. It's going to be fun ride.
Super CSF-3 Cat Feeder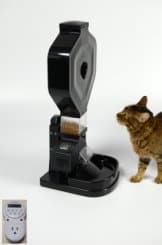 The Good
Super large hopper capacity (24 cups)
Indoor/Outdoor
Rugged Construction/Durable
Simple Analog Base Unit
Smart Technology Upgrade Available
The Bad
Assembly required
Noisy mechanism
I'll share all the details. If you want the quick and dirty version, the Super Feeder CSF-3 Automatic Cat Feeder is a Sherman tank of a dispenser and great machine. It's got large capacity (understatement of the year!) and it's study (second biggest understatement of the year). It made by a careful manufacturing and workmanship that shines through. If you're looking for volume and capacity, this is a feeder you should definitely take a close look at before you make any decision.
So I'll take you through the top features that come with the Super Feeder CSF-3 Automatic Cat Feeder, and then give you a sense of what Amazon buyers are saying about it. I'll finish up, as I always do, with some recommendations on other choices, if it turns out the Super Feeder CSF-3 Automatic Cat Feeder isn't quite what you need.
If you're in a hurry and you just want to get the Super Feeder CSF-3 Automatic Cat Feeder, that's totally fine. I'm that way too sometimes. Just go ahead and click here and go on to Amazon where you'll see the full product listing, customer reviews and any deals or promotions.
Click here to check out the Super Feeder CSF-3 Automatic Cat Feeder at Amazon
Editor's Note: The Super Feeder CSF-3 Automatic Cat Feeder is an excellent choice but not necessarily for everyone. I'll get more into that below. But if you're looking for a larger capacity, but a more versatile, all-around cat feeder, make sure to check out my review of the PetSafe Healthy Pet Simply Feed Automatic Feeder.
Main Features of the Super Feeder CSF-3
Where do I start? With Chinese manufacturers getting into the game, the automatic feeder marketplace has become indistinguishable in so many ways. They all look the same! Super Feeder is different. The company doesn't carry 20 different models. And the models it does have look different than any other dispenser.
I hate to use a cliché but I do consider Super Feeder an American original. So let's check out some of the top features.
I love the capacity of these beast. It comes with a hopper that contains a respectable five cups of dry food. At the time of this review, the company is offering for FREE an extension to increase capacity to seven cups. And the company makes (and you can purchase) a gargantuan hopper than holds 1.5 gallons of food. I'll do the math for you, that's 24 cups. Whoa!
You can order the old school analog timer version. Love this. Again, it's basically one of those timers we'd set our lamps to when we as a family would go on vacation. Remember those? They worked. You can order that version here. It's basically $5 cheaper and you could conceivably set up to a dozen meals a day. But the family-owned business has come into the digital age and you can go with one that'll sync up  with Alexa, Google or other systems using wifi.
The bowl is plastic and dishwasher safe. The feeder, however, is trades on its flexibility and you can easily replace the bowl with your own stainless steel one. It's that simple.
It's totally compatible with having this bad boy outside. There are fewer and fewer feeders that can live outside. This tank of a feeder totally can.
Who Should Buy the Super Feeder CSF-3 Automatic Cat Feeder
I'm not gonna lie. This feeder, perhaps more than any in the market, is an acquired taste. I have a soft spot in my heart for family-owned businesses. I really do.
The idea a dad and his kids putting together an erector set of a cat feeder in the garage and making it work so well that they start a company is irresistible to me. Super Feeder has been around a long time and I wish them well.
But if you're the type who prefers something plastic that you can take out of the box, plop down on the ground, plug in and get going, then this isn't the feeder. I mean it comes with a small screwdriver. That should tell you right there that this is the proverbial "assembly required." Is it difficult? I don't think so but I like putting stuff together. I love gadgets after all.
But forewarned is forearmed. And portion controlled is good but it isn't as easy as pressing some pads on a control panel. It involves calibrating of the more old-school variety by turning a screw with a screwdriver. I love that old school stuff but you may not.
Again, I tell you this as a word to the wise.
All that being said, if you need loads of capacity, this it. You want to a cat feeder because you travel or vacation a lot, this is the answer, especially if you purchase the extension. Literally, you could fill the large extension hopper and be set for a few weeks. The unit comes with a tamper-proof hood, so installing it will make sure your cat won't paw her way into the food.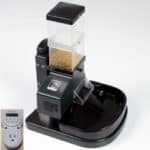 Oh, and it's a bit noisy. I find all them to be noisy, so it's just a matter of degrees. If you find noise from the feeding mechanism bothersome, then the Super Feeder CSF-3 Automatic Cat Feeder isn't for you.
I'm not sure how to put this. I guess what I would say is that you almost have to meet this tank of a feeder halfway. You have to assemble it and work with it to get it right where you want it. But for that effort, it'll get the job done again and again forever and a day.
The Bottom Line
The Super Feeder CSF-3 Automatic Cat Feeder is clearly a labor of love for this small Texas company. You gotta root for that. The feeder has been around for a lot of years and, to the company's credit, has tried to keep up with the various changes in the marketplace.
If you're looking for humungous capacity, get the 1.5 gallon hopper extension. It's not expensive. Again, have fun with your erector set of a feeder. Put it together. If you're open to it, then I wouldn't have any reservations about recommending the Super Feeder CSF-3 Automatic Cat Feeder to you.
Customer Reviews
The Super Feeder CSF-3 Automatic Cat Feeder has been around for the better part of 20 years. If it didn't work, the company and the feeder would have gone under a long time. So it's a good, solid feeder and the reviews reflect that. The newest version that more digital than the others has 134 reviews,  with an overall 4 out of 5 stars.
Sixty-eight percent of the reviews are five-star with another 19% coming in at four stars. As I say, I don't think you'll have anything to worry regarding the workmanship and sturdiness of the feeder.

Where to Buy Super Feeder CSF-3 Automatic Cat Feeder
The company has a website right of the early 2000s but I'm gonna tell you, it's very good and complete. But I always recommend you buy from Amazon.Why? Because of the reliability and superfast deliver, especially if you have a prime account.
And Amazon really takes care of you, the customer, if there is a problem. All of that applies here.
So I highly recommend heading over to Amazon to check out the Super Feeder CSF-3 Automatic Cat Feeder. But in this case, I'm going to also recommend you header over to the Super Feeder website if you want to get more of a sense of the feeder. It's probably worth the effort to learn more details about the feeder. You can click here for that.
Click here to buy the Super Feeder CSF-3 Automatic Cat Feeder
Other Recommendations
The  Super Feeder  not working for ya?  I've got a bunch of reviews here so take a look around. You might want to start with some of my favorites linked below.
| | |
| --- | --- |
| PetSafe Healthy Pet Simply Feed Automatic Feeder | SureFlap SureFeed |
| This is the big one. The feeder can serve up to 12 meals a day. Yeah, you heard me right. And it's super easy to program. If you're still undecided, this is my go-to feeder. | This is the little one. But great RFID technology. And it't totally capable of dishing out wet food. You wanna keep your cat healthy, this is a good option. Read the full review here. |
| PetSafe Healthy Pet Simply Feed Automatic Feeder Review | SureFlap SureFeed Microchip Pet Feeder Review |
| | |
| Westlink 6L Automatic Pet Feeder | Cat Mate C3000 |
| Super quality and rates very high with users of this smart feeder. Packs in 25 cups and has a sensor that checks for food in the dish. Check out my review here. | A midsized option with a hopper capacity of 6.5 cups and up to three meals a day. This compromise might be just what you need. Check out my review. |
| Westlink 6L Automatic Pet Feeder Review | Cat Mate C3000 Automatic Dry Food Pet Feeder Review |
| | |