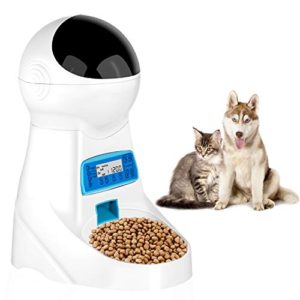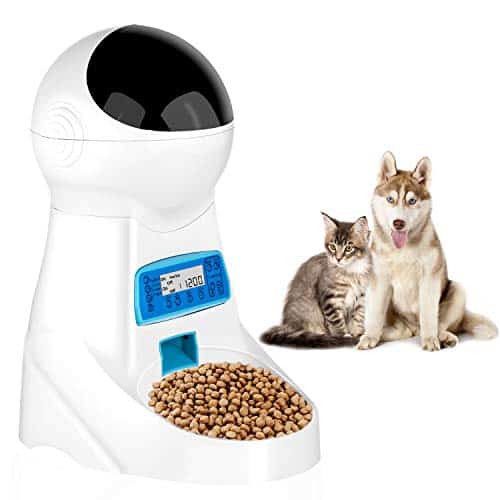 Took a little break as I went out of town. Had a great time but I'm back and I've got a hankering to get back to my cats and gadgets. So today I'm reviewing the JOYTOOL Automatic Cat Feeder. This little feeder may just be the right one from you, so stay with me and let's see if it measures up.
One things for sure: the JOYTOOL Automatic Cat Feeder goes right at the Wopet F03 Pet Feeder, right down to the orb on top look-and-feel of the unit. JOYTOOL is not nearly as widely known a brand as Wopet but this feeder doesn't give an inch in terms of features and functionality and in terms of quality and reliable. Given your needs for a feeder, this might just be a great choice.
JOYTOOL Automatic Cat Feeder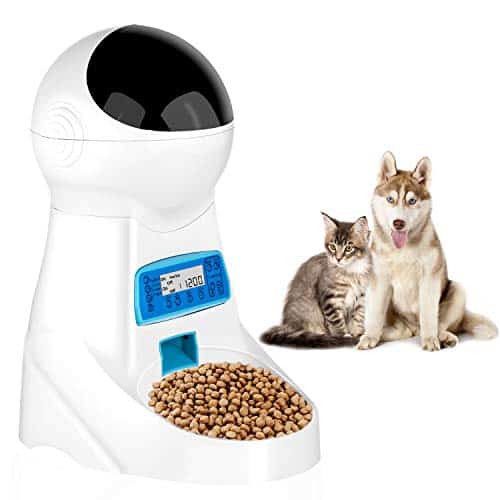 The Good
Wide Portion Control
Up to 4 Meals Per Day
AC/DC
Dishwasher Safe
The Bad
No Wet Food
Unattractive Design
(The JOYTOOL Automatic Cat Feeder is good choice for a smaller dispenser. If you're looking for a larger capacity and all-around great—and I mean my top choice—automatic cat feeder, check out my review of the PetSafe Healthy Pet Simply Feed Automatic Feeder.)
I'm going to walk you through the JOYTOOL Automatic Cat Feeder's various features, and I'll also tell you what the buzz is (good or bad) from Amazon buyers about the dispenser. And I'll finish up with some recommendations for other feeders in the event this dispenser isn't quite the right fit.
So if you just want to cut to the chase, I feel you. Totally understand. The JOYTOOL Automatic Cat Feeder has much to recommend and you click here and go straight to Amazon where you can check out the customer reviews and full proudction description and all that. And, of course, you can check on Amazon for any deals or discounts.
Click here to check out the JOYTOOL Automatic Cat Feeder at Amazon
Main Features of the JOYTOOL Automatic Cat Feeder
The JOYTOOL Automatic Cat Feeder, as I mentioned, has a lot going for it and it starts with its features:
Full portion control with the smallest portion at about a teaspoon (5 grams) to about 2.5 cups (195 grams)
This handy little feeder can serve up to four meals a day. Given it's price point, that's right in line with others on the market.
Given that you start at a teaspoon, you've got plenty of control over portions. In act, you have 39 settings per meal. I'd say the average cat will require anywhere from 5-10 portions to make it meal.
The bowl is fully detachable and easy to clean. Like others in this range, it's made of plastic and it's well built and sturdy. Even though I don't know JOYTOOL very well I couldn't find any major problems or complaints with the JOYTOOL Automatic Cat Feeder's design or manufacturing. Don't get me wrong, it has the plastic-y feel but it works just fine.
Standout Features
The JOYTOOL Automatic Cat Feeder has loaded up features that I love and make it quite competitive with Wopet F03.
As with the Wopet F03, this feeder gives you tremendous control over portion size. With up to 39 individual portion settings per meal, you an pretty much tailor the calorie intake of your cat down to the gram.
It comes with a USB adapter. You want to mess with batteries, you can. (It takes  a D battery) Or you can simply plug it in. Always a fan of this option.
Voice recording. I know some cat owners that swear by this and will not get a automatic cat feeder if it doesn't include a built-in voice recorder so that can call their pets to eat.
Can accommodate kibbles of about 0.39 x 0.39 inches (1 x 1cm) otherwise the food will jam the machine. For most cat food, this should be fine.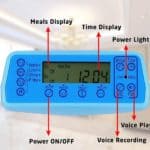 The control panel is super accessible and easy to use. Thankfully, this feeder doesn't require you to learn a whole programming language to punch in the times and portions.
Who Should Buy the JOYTOOL Automatic Cat Feeder
All in all, I recommend the JOYTOOL Automatic Cat Feeder. If you have a small- to medium-sized cat, this will work. There's little in the way of muss or fuss. Somehow, everyone who is manufacturing cat feeder at this price range seems to have gone astronaut crazy with weird-looking design.
It's not my thing but it works. You just twist the astronaut's head, fill the hopper the small kibbles and thing screw the top back on. After that, it's just programming the meals throughout the day or days.
If you travel quite bit or take extended vacations (lucky), I wouldn't recommend it. You can make it work but there are better options than having your cat sitter come in everyday to fill the feeder.
If you're planning to get your cat on a diet, or you've got her losing weight, then this an excellent choice. It'll give plenty of control over feeding times and portions and, best of all, won't set you way back financially.

The Bottom Line
I give a solid recommendation. The JOYTOOL Automatic Cat Feeder is not going to set the world on fire but as a dependable and efficient cat food dispenser, it's right there with others at this price point. It doesn't scrimp on features, but isn't weighed down by them.
All in all, it's a good solid dispenser at a reasonable price. And give the way it's built, your cat isn't going to find a way to get into the food. And if you've got more than one cat, then at the price, you can get two.
Customer Reviews
I'm not the only one things this is good option for cat owners. The JOYTOOL Automatic Cat Feeder has very good reviews on Amazon. At the moment, the dispenser has nearly 100 reviews and the consensus is 4.4 out 5 stars.
Seventy four percent of the reviews are five-star and 117 are four-star rating. That's very good.
Where To Buy the JOYTOOL Automatic Cat Feeder
I highly recommend buying the The JOYTOOL Automatic Cat Feeder from Amazon as it's super dependable and you can get superfast delivery, especially if you have a prime account.
So I highly recommend heading over to Amazon to check out the JOYTOOL Automatic Cat Feeder.
Click here to buy the The JOYTOOL Automatic Cat Feeder at Amazon
Other Recommendations
The JOYTOOL not working for you, aye. I get it. I've got a bunch of reviews here so take a look around. You might want to start with some of my favorites linked below.
| | |
| --- | --- |
| PetSafe Healthy Pet Simply Feed Automatic Feeder | SureFlap SureFeed |
| This is the big one. The feeder can serve up to 12 meals a day. Yeah, you heard me right. And it's super easy to program. If you're still undecided, this is my go-to feeder. | This is the little one. But great RFID technology. And it't totally capable of dishing out wet food. You wanna keep your cat healthy, this is a good option. Read the full review here. |
| PetSafe Healthy Pet Simply Feed Automatic Feeder Review | SureFlap SureFeed Microchip Pet Feeder Review |
| | |
| Westlink 6L Automatic Pet Feeder | Cat Mate C3000 |
| Super quality and rates very high with users of this smart feeder. Packs in 25 cups and has a sensor that checks for food in the dish. Check out my review here. | A midsized option with a hopper capacity of 6.5 cups and up to three meals a day. This compromise might be just what you need. Check out my review. |
| Westlink 6L Automatic Pet Feeder Review | Cat Mate C3000 Automatic Dry Food Pet Feeder Review |
| | |